"Sam, get over here quick." Bill McClain's voice was filled with urgency and excitement. "What's up buddy?" I asked, using the nickname Bill, Denny Thompson, Paul Miller and I had immortalized on the Saxon basketball court in 1975. "I'll explain, just get here." In a flash, I drove from my Fairmount home to Alvarado Terrace in the Candalaria neighborhood. Bill's step-dad, Ted Winters, greeted me at the door. "Have fun, but stay downstairs in the basement," he admonished.
Denny was already there, and a whole lot of loud people were upstairs. "What's going on?" I asked. "The cast party!" Bill exclaimed? "They're all here!" Cast party; what cast party? And who are 'they' I wondered. Here are some hints: Louise Fletcher. Danny DeVito. Christopher Lloyd. Scatman Crothers. Will Sampson. And, later in the evening, Jack Nicholson himself.
Yep. One Flew Over the Cuckoo's Nest. After three months of filming in Winter 1975, the produc-tion wrapped and it was time for a party. In Bill's house! Just one of the many fabulous adventures I enjoyed because of his mom, Jackie Winters. As a director in Governor Tom McCall's Office of Economic Opportunity, Jackie had been influential in bringing the Oscar-winning project to Salem. She also had the gift of hospitality and event planning, so it was a natural for the cast party to be at Jackie's and Ted's house. Together, that couple was an amazing testimony of love and service.
Most people knew her as Senator. Or successful entrepreneur (Jackie's Ribs). Or State Ombudsman (under Gov. Atiyeh). I was blessed and fortunate that she called me "son." It was like that for the friends of her four sons, and it was a blast to be good buddies with Bill during some great years at Leslie Jr. High and South Salem High.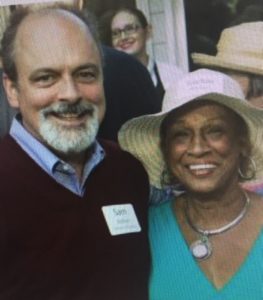 Jackie fought the good fight for kids, families and seniors in the State Capitol for 21 years, assisted first by Ted, and then the amazing Pam McClain, as her chief of staff. There isn't enough room on a page or in a library to cite all the achievements Jackie made—not for herself, but for the people of Oregon. For all her titles and all her monikers, at the end of the day Jackie was Mom. Grandma. Friend. Neighbor. And now, Saint.
From Topeka, Kansas … to VanPort as a young girl, surviving the tragic 1948 flood … to the Albina District of Portland, where she honed her advocacy and leadership … to the staff of Gov. McCall in the Capitol … to her wedding with Ted (read his gripping story in 'Lifer'—I can get you a copy) … to Jackie's Ribs … to the Legislature in 1998 and the Senate in 2002 … and final rest on May 29. Well done, good and faithful servant. Thanks for your faith, your testimony and your love.