I'm eternally grateful to the 2017 Eclipse.  And the City of Independence. They are the reason Imani Hall came to Oregon.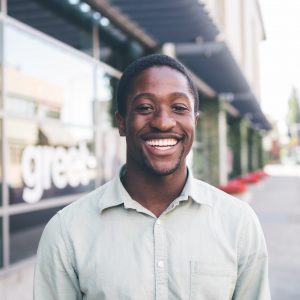 Imani, a recent graduate from Ithaca College in New York, accepted a 9-month AmeriCorps assignment for the City's "Indy Goes Dark" tourism campaign for the Eclipse. Our mutual friend Gregg Peterson introduced us at one of the Bridging the Gap meetings hosted by the Coalition of Churches at McKay High School.  I knew right away that SLF would be offering Imani a job when the AmeriCorps contract ended, even though we didn't have any openings.  His maturity, his spirit, and his positivity were evident from the get-go.
We offered Imani the option to serve as the Lightning Rod (field staff) in the North, Keizer or Sprague areas.  He spent a couple weeks visiting each area, checking out the neighborhoods, and analyzing the data on needs, resources and partners.  He loved all three areas but chose the North Salem feeder area, which includes Parrish and Houck middle schools. It didn't take long for Imani to notice that we had done a great job serving the Grant-Highland-Parrish geography of north-central Salem, but our connections and impact in the Houck area were lacking.  He immediately built partnerships at Four Corners Elementary and Houck, which led to expanded networks of churches, schools, nonprofits and neighborhoods.  His ministry through Wyldlife and Young Life immediately made positive impacts in the lives of many students.
Imani was also instrumental in expanding SLF's learning and involvement in two areas where we'd been active, but not fully immersed.  The first, Incarceration and Re-Entry.  The second, Racial Justice and Reconciliation.  Thanks to our colleague DJ Vincent, SLF has a strong partnership with Street Psalms, an international urban ministry based in Tacoma.  Through curriculum, trainings, webinars, and conference trips both DJ and Imani gained expertise that, in turn, they shared with the SLF staff and our partners.  Deep, profound, spiritual work.  Especially lately.
As I write this tribute, Imani is driving home to West Philadelphia.  The communities of Springfield and Upper Darby, Pennsylvania, to be exact.  He is eager to serve—and call others to servant-hood—as he deploys the skills he honed in Salem-Keizer for three years.  I can relate.  I returned to my hometown from Seattle 25 years ago ready to give myself to the city in ministry.  West Philly, get ready for a tremendous homecoming and blessing!