I was thinking about thanks.  It's that season.  A scripture came to mind …
As Jesus continued on toward Jerusalem, he reached the border between Galilee and Samaria.  As he entered a village there, ten men with leprosy stood at a distance, crying out, "Jesus, Master, have mercy on us!"  He looked at them and said, "Go show yourselves to the priests."  And as they went, they were cleansed of their leprosy.One of them, when he saw that he was healed, came back to Jesus, shouting, "Praise God!"  He fell to the ground at Jesus' feet, thanking him for what he had done.  This man was a Samaritan.  Jesus asked, "Didn't I heal ten men?  Where are the other nine? … And Jesus said to the man, "Stand up and go.  Your faith has healed you."  Luke 17:11-19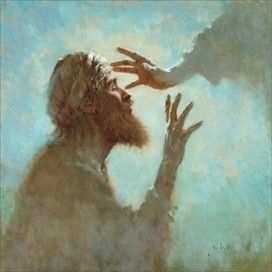 Reading this scripture, I thought of my Dad.  He was big on thanks. Verbal thanks.  Notes of thanks.  A posture of thanks.  Those who knew Dad know what I'm talking about.  I remember one time when Dad did a favor for a friend, but the friend neglected to say thanks.  Dad was disconcerted.  I assumed it was because the friend had offended Dad with his failure to acknowledge Dad's kindness.  Time for a lesson. "Son, we don't do things to get thanked," he said.  "We do things because it's the right thing to do, and because it gives us pleasure to do so."  OK, I embraced that.  But why was Dad down?
I came to learn that—as revealed in the parable Jesus shared—there's something life-giving about thanks-giving.  For the person receiving the thanks, of course … but even more for the person giving the thanks.  Dad comprehended this and desired it for his friend. In the parable, all 10 men were 'cleansed' of their leprosy. Their request for mercy was granted.  But in returning to give thanks, the 10th man was also 'healed.'  Of his leprosy, to be sure, but the implication is a holistic outcome of well-being.  As a reward?  No; that would cheapen it.  I believe Jesus is telling us that the man's full healing was the natural consequence of his faith, which was rooted in his heart—and his willing act—of gratitude.
Long story short:  Thanksgiving is good and right to express.  Both for the benefit of the giver and the receiver.  In a world that seems to be growing longer on "I need to get mine" and shorter on "thank you" … may the Lord fill our hearts with a spirit of Thanksgiving. Thanks (no pun!) for reading this, and I hope maybe the Lord has brought a few folks to mind … emailing them is fine, but a hand-written note is a sweet blessing these days.