He wasn't born in Salem and he didn't die here … but our community is eternally blessed because of Rev. Dick Lucco.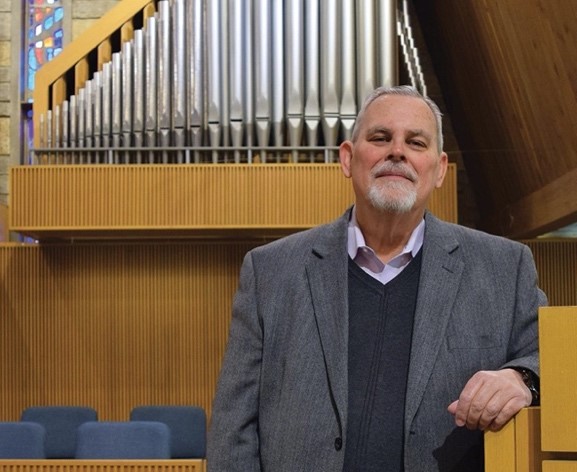 How beautiful are the feet of those who bring Good News.  Romans 10:15
In the 1990s, in the midst of an all-out community response to youth gangs, Dick was the one who diagnosed a major gap. "When our city has a crisis, and civic leaders reach out to the churches for help, 1) they don't know who we are, and 2) when they finally reach us, the answer is 'no' – something has to change.  We need a bridge."  Dick called together leaders of faith and goodwill, paving the way to SLF's birth in 1996.
Dick was beloved at his church, Trinity Covenant, and built strong friendships with clergy across town.  He was part pastor, professor, wry-humorist, and a zealous St. Louis Cardinals fan.  He had vision for growth and change, and he knew how to build relationships that would bear fruit.
Among many influences on me and the work of SLF, two stand out.  In our early days, in concert with our mission to help ministries, nonprofits and schools, I was being asked to join various boards.  The easy 'yes' was to faith-based organizations.  When Sue Miller was putting together a new nonprofit to help kids and families, I asked Dick if that'd be a worthwhile engagement.  "Sam, we're all about people-of-faith and people-of-goodwill.  If church folks only hang out with church folks, what's the point.  Do it."  Being on the team that launched Family Building Blocks taught me a ton and built methodologies and relationships that are still strong today.
The second game-changer was the day Dick told me Trinity Covenant was pulling out of the Capitol Inn hotel, where the church had incredible ministry to the homeless folks living there.  Instead, they'd be focusing on the church's neighborhood.  Are you kidding?  South Salem?  Gently, but firmly, he schooled me on the hidden high-poverty needs at Liberty School and the Section-8 apartments across the street.  Not to mention the 'poverty of affluence' that wreaks damage.  SLF switched from a creed of "everyone come to the inner city to help" to "look out your front door and back door and love neighbor as self."  This applies to not only churches, but businesses, organizations and households.  Huge.  Especially now.
With heavy but grateful hearts we remember Dick fondly.  We send our love to Val, Zach, Drew, Jeff, Chris and the grandkids.  We give thanks and praise that a guy from Webster Groves, Missouri, and North Park Seminary would commit a rich chapter of his life to Shalom, Oregon.