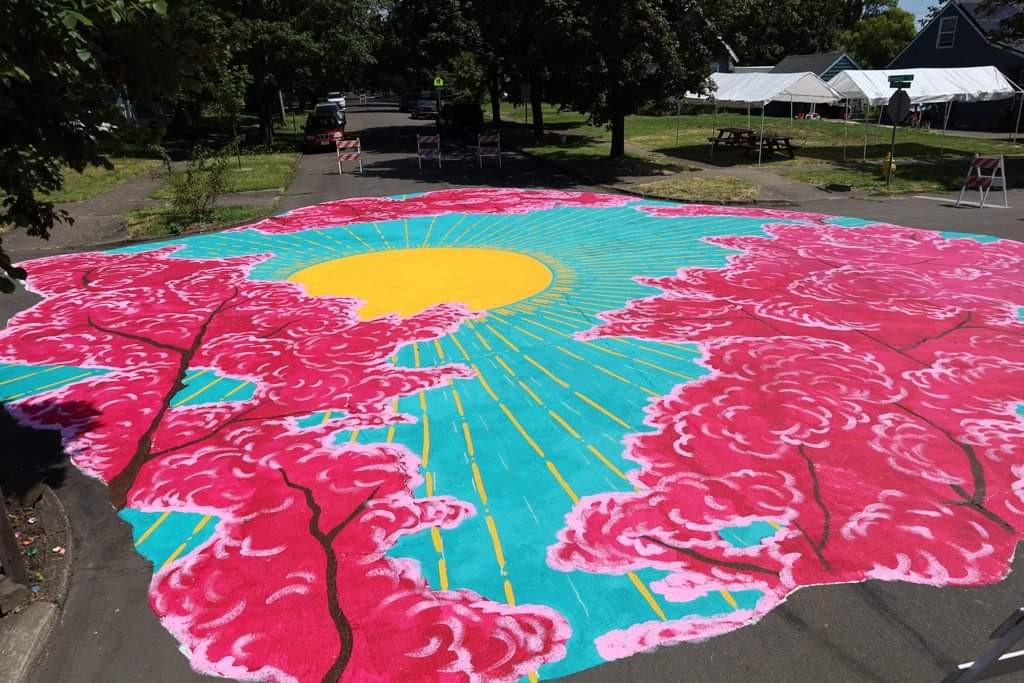 Thanks to extensive publicity in the newspapers and social media, it seems everyone's heard about the "street-painting art project" in the Grant Neighborhood.  Over the July 4 weekend, a battalion of neighbors, young and old, converged at the intersection of Belmont and Cottage to prep, paint and party upon the beautiful mural that features sunshine and cherry blossoms.  It's a template for what other neighborhoods can do to build community.
The official partners were the Grant Neighborhood Association, the North Neighborhoods  Community Partnership Team (N2-CPT), and the City of Salem (Councilor/neighbor Virginia Stapleton).  They worked in concert with local artist/neighbor Erika Baker, who also painted the murals at nearby Broadway Coffee House.  But, like all stories, the street-painting project is wonderfully woven to a series of chapters and characters …
Once upon a time (late 1990s), there was a school (Grant Elementary) in a tough neighborhood that innovated a program called Dual-Language Immersion. The principal (Grant Foster, who lived down the street) freed up Friday afternoons so the English- and Spanish-speaking teachers could engage in rigorous DLI prep time and training.  This created a need for volunteers … lots of volunteers … to run an after-school program for 250 kids dubbed 'Fantastic Fridays.'  A nearby church (Salem Alliance) and a brand new ministry (SLF) teamed up with the Boys & Girls Club and other partners to staff the weekly program, which eventually spread to Highland, Richmond, Bush … and beyond. Among the Friday volunteers was a bilingual Willamette student (Laura Herrmann) who would help launch language classes at Salem Alliance's Broadway Life Center.  Ultimately, she'd be hired as a dual-language teacher at Grant and buy a house with Andy a block away.  Today, their two kids are Grant School students (and pretty darn good at Chess Club if I do say so myself!)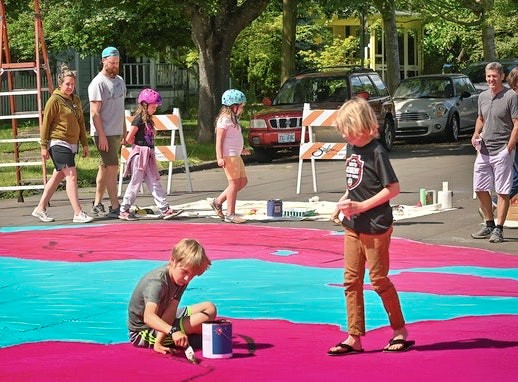 So where do the street-mural dots connect?  Well, Laura – that Willamette student at Fantastic Fridays 20 years ago – is the author of the idea!  She did all the research.  She floated it with neighbors. We got it on the agenda at the neighborhood association. Virginia got it before City staff and council.  Designs were reviewed, Erika was selected, and the rest is artistic history.  The intersections (pun intended) are neighbors, school, church, city, neighbors, nonprofits, art, civics, neighbors, collaboration, businesses (paint!), kids and – did I say – neighbors?  Thank you, neighbor Laura.