After joining SLF in 1996, one of the first meetings I attended was with the superintendent of Salem-Keizer's schools.  Homer Kearns was meeting quarterly with pastors and ministry leaders to build relationships and avert discord.  This was heady stuff back then … the CEO of Oregon's second-largest school district meeting with clergy on a regular basis!  Ministry friends in other cities could not believe 'church and state' would come together like this.  Especially in Oregon.
Over the years and through four more superintendents—Kay Baker, Larry McMurray, Sandy Husk and Christy Perry—the meetings have continued.  In fact, Supt. Perry has kicked it up a notch.  Instead of meeting three times a year at District headquarters, Christy has us out in the schools.  Last school year we met at Cesar Chavez Elementary and two middle schools:  Houck and Judson. This year Christy wants four meetings, starting at Walker Middle School on Oct. 4.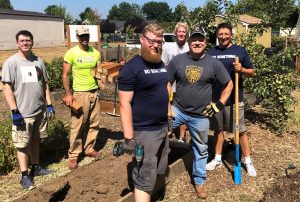 During our meetings, one of the regular topics is: "How can churches help our schools?" When we were gathered at Houck, the principal, Suzanne Leonard, said "we could really use a beautification project like they do at Walker every year."  In the audience were Craig Oviatt of Salem Dream Center and our trusty West Salem Lightning Rod Dwayne Hilty, both of whom rock the Walker event.  They immediately pledged to coach anyone who might step forward for Houck.  Two hands immediately went up: one was Tim Davis and the other was Imani Hall.  Tim is a pastor at Church on the Hill, one of the 60+ 'CaN Center' churches that serve neighborhoods across Salem-Keizer.  Church on the Hill birthed a music-and-mentoring ministry that has grown into its own nonprofit called Brothers of Valor.  Men from several churches have banded together to provide mentoring in academics and fine arts from a home base at First Presbyterian Church downtown.
Imani is our new North Salem Lightning Rod and he's doing a fantastic job.  Imani, Tim and Jon Watts pulled together a team of 35 volunteers in August to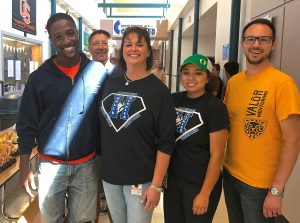 paint the Houck Library and rebuild the infrastructure for the school's community garden.  Just one of many examples where churches are helping our schools.  The door is wide open to serve.  All of our schools are eager for church partners.  And for 22 years our superintendents have been saying it's OK.  Are you in?