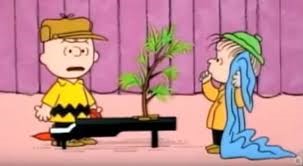 Jennifer used to work in the Nordstrom corporate offices, and it was kinda cool to get perspectives on the storied Seattle retailer from 'behind the curtain'.  Among many creeds, lore and traditions was the case of the lady who returned (and got a refund for!) a set of tires … even though Nordstrom didn't sell tires.  Talk about customer service! Another rock-solid Nordstrom ethic was the Christmas season.  It did not begin a minute sooner than the morning after Thanksgiving.  Nordstrom's display crews were up all night on Thanksgiving switching the store décor to Christmas splendor.  Back in those days, you didn't hear the term "Black Friday" at Nordstrom.  It was the first day of Christmas season.
This year I saw my first TV Christmas ad the day after Halloween.
Here we are, entering Advent, and I found myself tired of Christmas already. Upon reflection, I realized it's not Christmas that has me weary.  It's the commercialism.  Advertising.  Frosty the Snowman.  Cars I can't afford (one for each spouse!).  Lots of kitschy Christmas songs and too few sacred ones.  Fake trees.  Corny Christmas movies 24/7.  From Halloween to New Year's … too much.
As an exercise of discipline, I challenged myself to think of things that authentically capture the Christmas spirit.  Many thoughts and emotions rushed in.  Among them, that beautiful scene in A Charlie Brown Christmas when Linus answers the question: "Isn't there anyone who knows what Christmas is all about?"  Have you ever noticed that—as Linus is reciting Luke 2:8-14—he suddenly drops his constant-companion security blanket the moment he says "Fear Not! For I bring you tidings of great joy that shall be for all people …"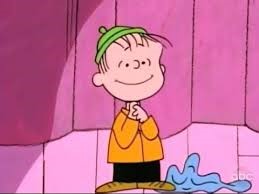 More nuggets filled my heart.  O Holy Night.  The miraculous, prophesied birth. My mom Teddy (12/23/2008), who adored Christmas season.  The arduous journey and adoration of three kings.  The Hebrew babies who gave their lives under Herod's sword for the refugee baby who one day would give His life for all.   Family.  Faith.  Hope.  Love.            And a TV holiday special filmed in 1965 that the critics thought would bomb because it had no laugh track, a strange-but-perfect score of jazz music, and a lengthy recitation of scripture from the King James Bible.  Thank you Linus, for reminding me (and all of us) what Christmas is really about.