We did a little survey as part of our Fancy 25th festivities last spring (thanks to everyone who replied!).  We asked three questions: 1) What do you love most about Salem-Keizer? 2) What is the biggest challenge facing our community?  And, 3) What can SLF do to help in the next 25 months and the next 25 years?
There was a variety of answers to #1 and #3, but it was nigh unanimous on #2: "homelessness." Many respondents also raged, "Someone should do something about it!"  Well, over the past several months, the City of Salem, Union Gospel Mission, and Church@ the Park have taken huge steps toward solutions.  The opening of the new UGM downtown expands its capacity to serve men, 85% of whom break free of homelessness if they engage the New Life Program. For folks who live in cars and camps, the approach is 'tiny houses' and 'managed camps.'
You might remember in our Fancy 25th video where DJ Vincent casts a vision for "small, safe tiny-house pods in all 8 Wards of the City."  It's happening.  The first two are in North Salem and generating great outcomes like jobs and permanent housing.  But our homeless neighbors live all over Salem-Keizer, and it would be unjust to force everyone into one part of town for services.  Church@ the Park's 'Safe Parking' initiative at churches has shown the efficacy of 'small' and 'dignified' and 'proximity.'  The same is true for 'managed camps.' The concept was proven last winter at the State Fairgrounds Pavilion facility.  People respond well when things are clean, safe and warm.  People stabilize and start thinking about the future, not just survival.  Rapid connections to social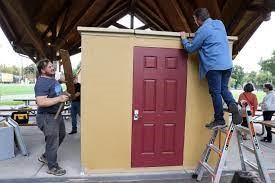 services lead to health, housing, jobs and hope.  With help from Hazel Patton, more than 65 tiny houses (at $5,000 each) have been sponsored by community members. Someone(s) is doing something!  Thanks so much.
Just to clarify:  Church@ the Park is not a formal facet of SLF.  We did help DJ and Emmaus Community Church get the ball rolling in 2007 through our CaN (Churches as Neighborhood) Centers program.  We also helped them complete a capital campaign to buy their navigation center on Turner Road.  And we continue to advocate for their innovation and action toward relational solutions.  Along with UGM/Simonka Place, ARCHES, Family Promise, Safe Sleep UNITED, Women at the Well, St. Francis Family Housing, Salvation Army, Be Bold Ministries, and others, we can obey Jesus and learn how to love (homeless) neighbor as self.