Last month marked two amazing milestones.  First, the five-year anniversary of the founding of Salem For Refugees (SFR).  And second, the awarding of SFR's stand-alone 501(c)3 status as a tax-exempt nonprofit!  Salem Leadership Foundation was proud to team up with Salem Alliance Church to form the joint-venture crucible that allowed SFR to take root and thrive.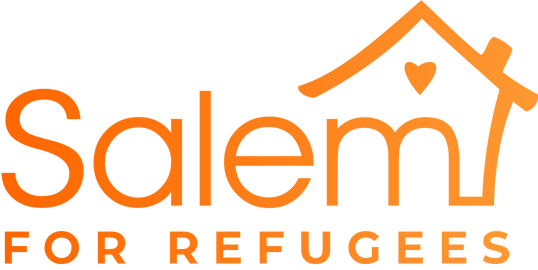 'Setting the table' is an SLF specialty, and that's literally what we did for the five Mondays of October 2016 to gather all the people and groups scrambling to serve the refugees just starting to arrive in Salem-Keizer.  During the course of those five lunches, a scattered band of volunteers intersected with Anya and Doug Holcomb, who were looking to establish a formal network for serving refugees.  Bing botta boom – Salem For Refugees was born!  SLF was the official fiscal sponsor and Salem Alliance handled payroll so that Salem For Refugees could build infrastructure, staffing, $upport and program-matic capacity to help 'Our New Neighbors' as they arrive.  We are now in the process of transferring funds and systems to SFR's capable team, and I want to give a huge shout-out to SLF's business manager, Linda Dolar, who has been invaluable to SFR's growth and financial fidelity.  (SFR is now processing its own donations at www.SalemforRefugees.com)
At SLF we don't have our own programs; we help the programs of churches, ministries, nonprofits and schools thrive.  Being careful not to steal credit, we can safely say that SLF's consultation and investments have fortified great programs like Salem Free Clinics, Hope Station, Northwest HUB, Salem Dream Center, Isaac's Room/IKE Box, La Casita Family Center, Salem Harvest, Broadway Commons, Family Promise (Interfaith Hospitality Network), Church@the Park, and Salem For Refugees, among many others.  Our role is to come alongside churches and nonprofits to help their good ideas take flight, expand capacity, and deliver results. We deploy our services through the SLF Lightning Rods (field staff), Community Partnership Teams (CPTs) and the CaN (Churches as Neighborhood) Centers Collaborative.
Here at Thanksgiving, we offer a special measure of thanks! for walking with us … and for all you do to seek the shalom (peace and well-being) of your neighborhood.  Especially in challenging times like these.
Give thanks to the Lord for His unfailing love and wonderful deeds … for He satisfies the thirsty and fills the hungry with good things.  Psalm 107:8-9