This one goes out to all the people who have an incredible impact but are below the radar.  Take a moment to think of these saints in your life.  They are beloved to those who know them … generous beyond measure with their time, talent, and treasure … always deflecting attention and affection to others.  Especially the underdog or the up-and-comer.  They have no desire at all for the limelight or the microphone or the kudo. So, it's with great care (and a sense of irony) that I write about my friend Mary Gerlinger.  The last thing she'd want is a fancy tribute like this.  But I have faith she'll understand by the time I finish.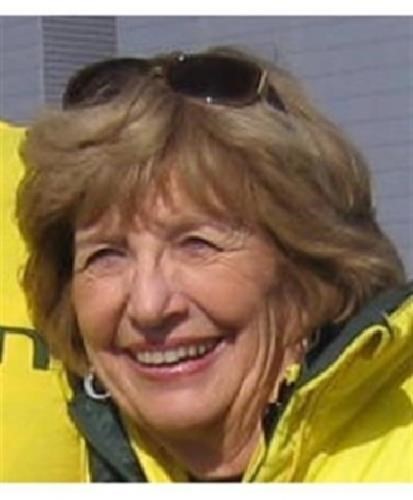 Mary was born on Christmas day into a prominent Oregon family (Dallas, Salem) whose inventions and business acumen have had a worldwide impact.   Professionally, she was a flight attendant and a speech pathologist.  She volunteered with ministries like the Navigators, Young Life, and the National Prayer Breakfast.  She knew some very prominent and famous people … but they weren't springboards to success or something to boast about.  Just friends.
Among Mary's other – and most cherished – friends, were legions of high school students in Salem-Keizer.  For many, many years Mary was involved in "club, campaigners and camp" with Young Life, serving as a mentor to hundreds of young people.  As they grew up, started careers, got married, and had kids (and grandkids), Mary remained an influential friend both in relationship and in prayer.  She was a strong, joyful woman of faith in her church and her community.
Mary's prayers, friendship, and partnership impacted SLF from the very beginning in 1996.  One expression is the Pop's Garden Fund, which she founded in honor of her parents Carl and Helen Gerlinger.  Since 2006, more than 55 community gardens and nutrition initiatives at churches, schools, parks, and neighborhoods have been planted or expanded thanks to Mary and her family.
In her later years she would often lament, "Sam, I just want to be out there sharing ministry. I'm not doing enough!"  Several times I tried to reassure her: "You'll be back out there soon."  Eventually, not wanting to fib, this suddenly came out of my mouth.  "Mary, are we heavy?"  What, she asked?  "Heavy?  Are we heavy?"  She didn't understand, but I was beginning to.  "Mary, there are jillions of us out there in ministry, and we all stand on your shoulders.  You are most definitely having an impact, for eternity!"  Thanks Mary, and all the saints like unto you.
Mary (1935-2022) was a special and caring person who radiated love, joy, peace, patience, kindness, goodness, faithfulness, gentleness, and self-control (Galatians 5:22)