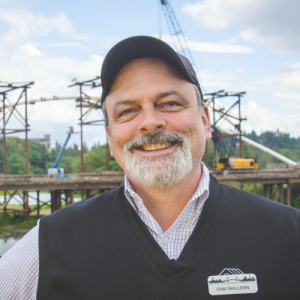 OK, it's official.  It actually shouldn't be a surprise because we've been working on it for a couple years.  By the end of 2024, there will be a new leader at the helm of SLF. (Thank you for not bursting into roars of applause like several tables did at the Fancy Dessert June 16!  True story!)
As detailed at Fancy Friday, and as highlighted in the January 2023 Fancy Newsletter, the original plan was for DJ Vincent to take the baton after 12 years with SLF.  But God has other plans, and we are celebrating.  Even as DJ served with SLF for 12 years, he was pastoring a congregation that grew in size, mission and impact.  You've heard us lift up Church@the Park many times as its ministry programs have matured and expanded.  This is DJ's high and holy calling.  Church@the Park is a methodology that works to help the homeless heal with restored relationships.  Which leads to hope.  Which leads to stability, housing, sobriety, jobs. It works!
So, we're rebooting our succession-planning process.  In the spirit of best-practice organizational management, we have a strong board strategizing well for the next chapter.  My commitment has always been that the board would not have to pry my fingers off the SLF wheel well past the time I'm effective.  SLF is not mine to clutch.  It was formed by a visionary group of servant-leaders who saw a need for faith-based bridge-building in Salem-Keizer.  I'm honored to be the first hire and, even more, to be entrusted to shepherd the team and mission for 27 years.  I want to finish strong and pass the baton well.
As we proceed, 2023 is the 'search year' and 2024 is the 'training-and-succession' year.  We are exceedingly grateful to everyone who accepted board-president Josh Kay's invitation at Fancy Friday to partner with SLF for the next three years and see us fully past the transition.  Your generosity equips us to keep current staff and programs well-deployed while we conduct the cross-training process for the new executive director through 2024.
Here in July the net is being cast for candidates.  We have a fantastic search committee, a wise prayer team, a discerning interview process, and a great set of documents.  To engage the process, the first step is to email Linda Dolar, SLF's Business/Officer manager, Linda@salemLF.org.
People are asking, what's next for me?  There will be lots of volunteering and probably some consulting work.  But I'm not taking another job and we're not leaving Salem.  As I said earlier, I want to step away when things are healthy and set the stage for the next chapter in SLF's ministry to the churches, schools, nonprofits and neighborhoods of Shalom, OR.